No headphone jack? No problem—or at least, not a problem that can't be fixed with a solid adapter.Apple caused a commotion after confirming that the iPhone 7 would only sport a Lightning port. This means that all your old headphones with a 3.5mm plug would have to be hooked up to your iPhone 7 using an adapter. The iPhone 7 and 7 Plus have been out since September 2016, and we still struggle from headphone jack woes.But which adapter is right for you? Here are a few choices…and one that only solves part of the problem.
Apple's Lightning to 3.5mm adapter
Apple saved itself much of the outrage for getting rid of the headphone jack by including a Lightning to 3.5mm adapter free with every iPhone 7. This adapter is so lightweight, you'll hardly notice it hanging out at the end of of your headphone cord. It's also thin enough that it doesn't get stuck in your pocket. Best of all, you can replace this adapter for only $9, which is very affordable by Apple standards. By comparison, the 30-pin to Lightning adapter is $29, and it had to be purchased separately.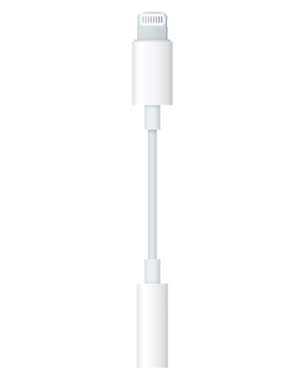 But there are two problems with Apple's in-box solution. First, it doesn't have mic and audio control support for third-party headphones, so you can't use the in-line mic and controls to talk to Siri, take a call, or skip a song. The second issue is that the single input means you can't charge your iPhone 7 and listen to music at the same time.
Apple's iPhone Lightning Dock
Apple's senior VP of marketing, Phil Schiller, has personally shared his solution to the listen-or-charge dilemma: Use your AirPods, or get an iPhone Lightning Dock ($49).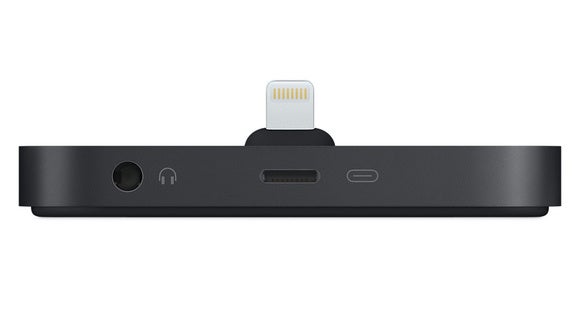 This Apple accessory lets you charge your iPhone 7 by mounting it on the dock, and then you can use the spare 3.5mm plug on the back of the dock to listen to your headphones.
Griffin's iTrip Clip
This adapter takes a different approach: It uses Bluetooth to give wired headphones wireless capabilities. And unlike most traditional Lightning adapters, the $20 iTrip Clip also has a built-in mic so you can take calls or talk to Siri.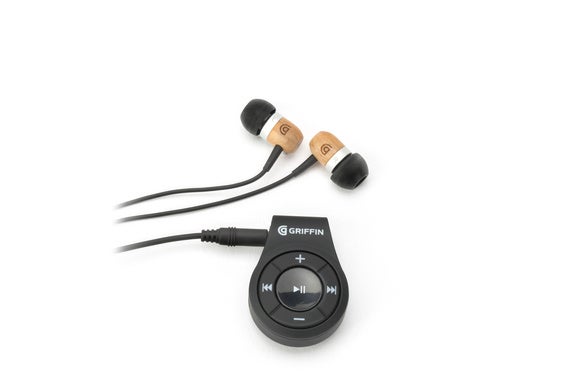 Plus, the iTrip Clip has another surprising functionality—hook it up to your car's stereo system using an AUX cable, and you can use Bluetooth to play music from your phone, just like that.
Comsoon Bluetooth Case
This gadget also relies on Bluetooth to make up for the iPhone 7's missing headphone jack, but it's only available for the iPhone 7 Plus. The Comsoon Bluetooth Case ($20) has a built-in 3.5mm port at the top, reverting the jack's location back to the top like in those old-school iPods (or your older iPhone). Once you pair your iPhone 7 Plus to the case via Bluetooth, you'll be able to listen to your earphones by plugging them in at the top of the case, while the Lightning port at the bottom will remain available for charging.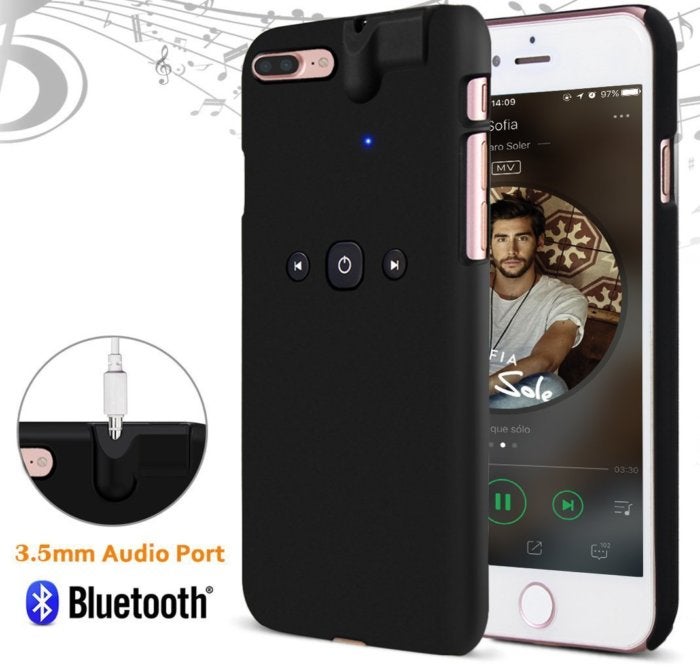 When I tested the Comsoon Bluetooth Case, its built-in 3.5mm adapter worked great, making it a viable solution if you'd prefer to have a case over a dongle. The case also has buttons on the back that you can use to control playback, and the power button also serves to play or pause a song. Tapping on the Next button will increase the volume, and the Previous button will lower it. Tapping twice on Next will skip to the next song, and tapping twice on Previous will go back. These controls worked for me as well, although I had to press extra hard on the Next button to get it to work properly.
Belkin's Lightning Audio + Charge RockStar
Belkin was one of the first accessory makers to unveil an adapter for a iPhone 7, but it's not really a solution for the lack of headphone jack. Just like its name, the Lightning Audio + Charge Rockstar adapter is needlessly clunky. It has dual Lightning ports so that you can charge your iPhone and listen to Lightning headphones at the same time.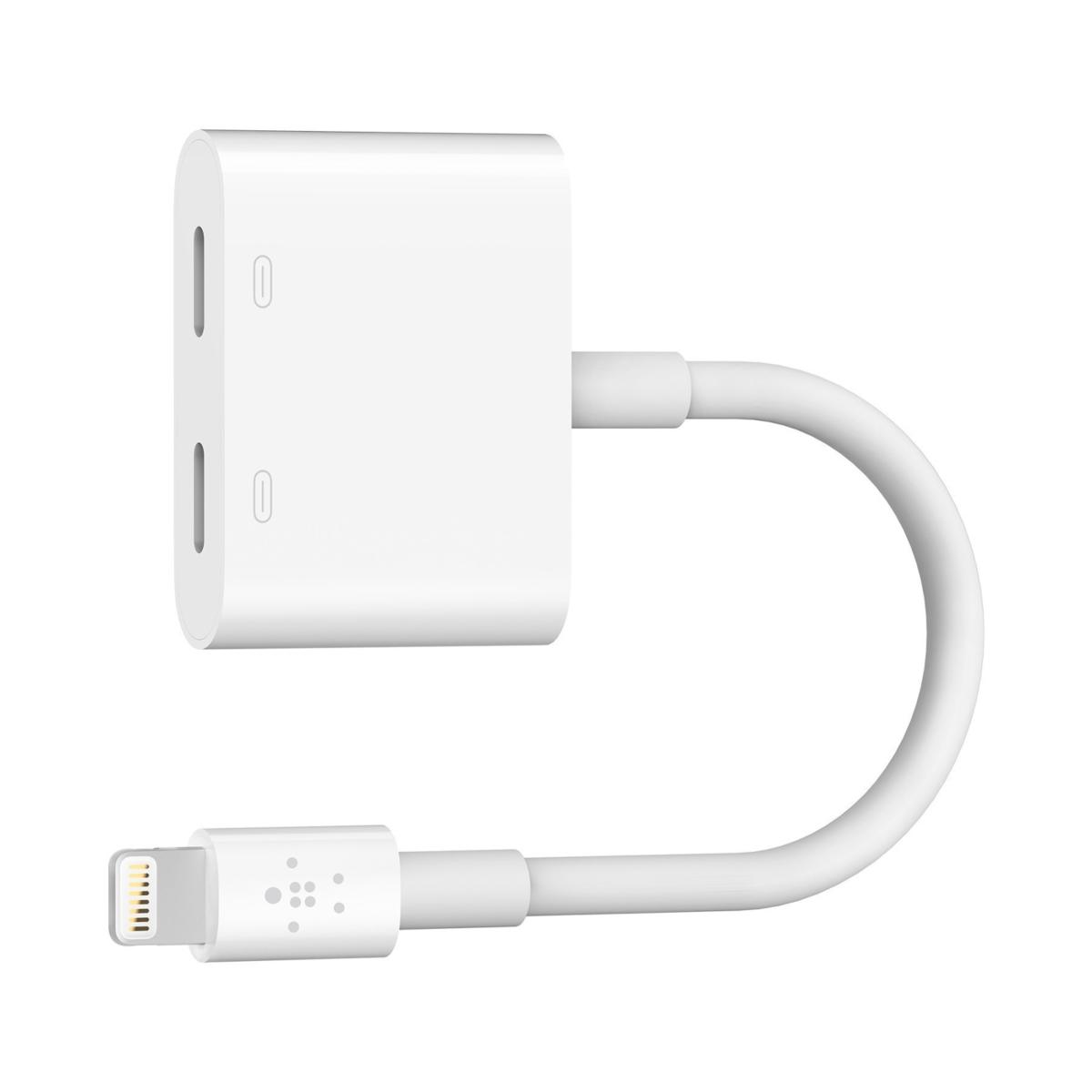 But it's missing a 3.5mm jack… so you will still need to have one of the other gadgets above to listen to your old headphones. At $40, this is an expensive solution considering it only addresses part of the problem. Belkin's adapter was actually what prompted people to mock the iPhone 7 for needing dongles upon dongles. Remember this?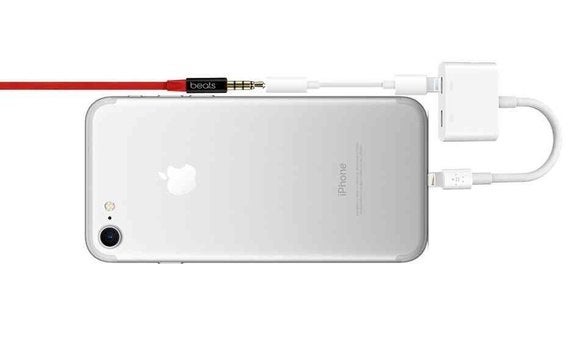 …yeah, we wish we could forget that, too.
Wesoo Audio & Charge Adapter
Since the iPhone 7 was released without a headphone jack, a lot of third-party manufacturers have come out with their version of a dual Lightning adapter. They work very similarly to Belkin's Rockstar adapter, but cost a fraction of the price. I tested the Wesoo dual adapter ($24 on Amazon), and it worked just fine—I was able to listen to music via Lightning earphones (and via 3.5mm earphones using the additional Apple adapter above), while simultaneously using the other Lightning jack to charge my iPhone.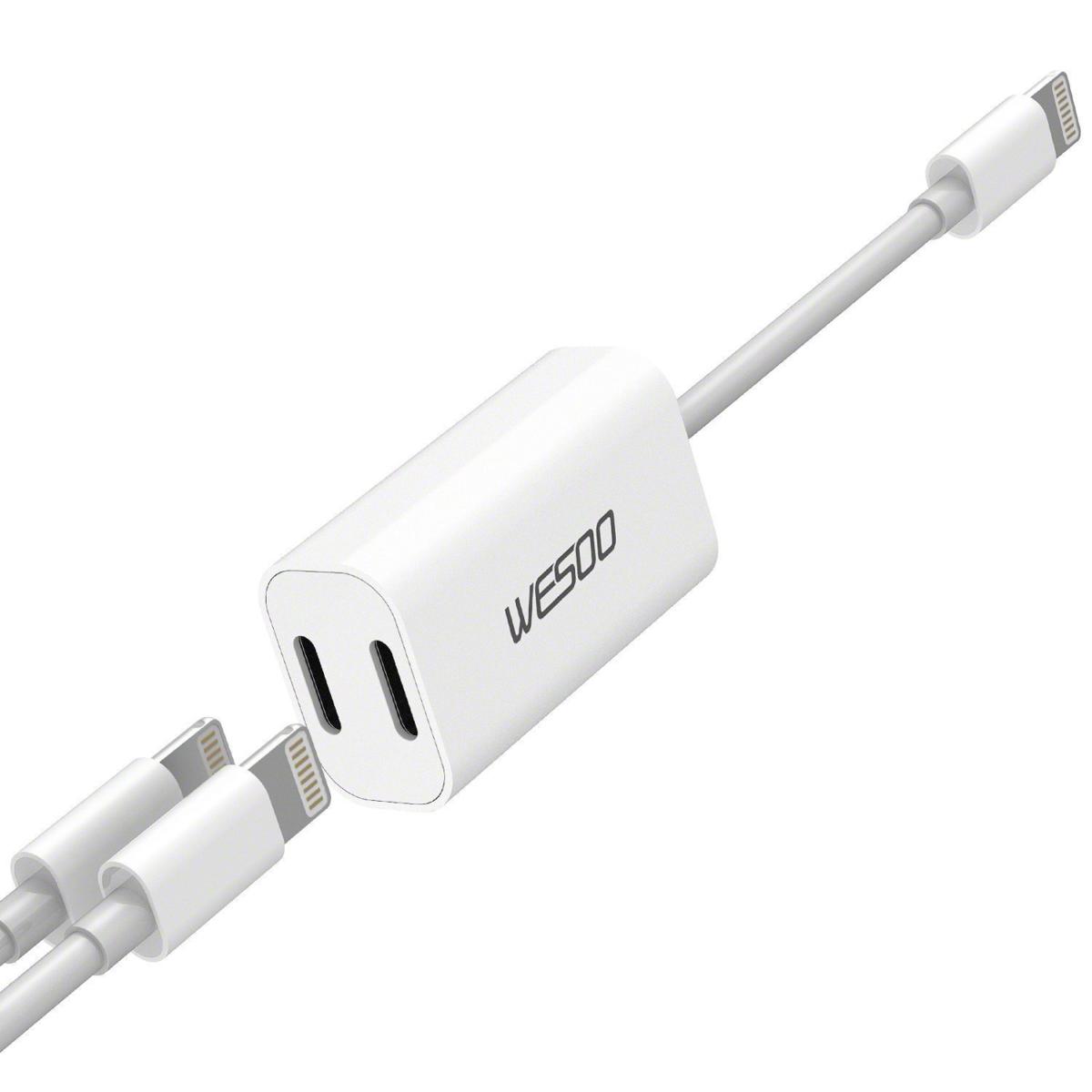 What I liked about the Wesoo dual adapter, besides the fact that it's more affordable, is that it's designed to be more compact. The dual Lightning ports are on top of each other, instead of side by side. This gives you just a little bit more room in your pocket. If you have Lightning earphones, give this adapter a try. Even if you use earphones with a 3.5mm plug, you can still use this adapter. Hook up your earphones to an Apple adapter and you'll be ready to go. Just make sure that you plug the earphones to the Lightning adapter before you plug that into one of the Wesoo dual ports.
Dual Lightning & 3.5mm Adapters
If you don't own Lightning earphones or headphones and don't intend on getting some, you might just need a dual adapter that works for both 3.5mm for audio and Lightning for charging. There are a lot of adapters on Amazon, and I found two of them that worked as promised. Better yet, each were under $20.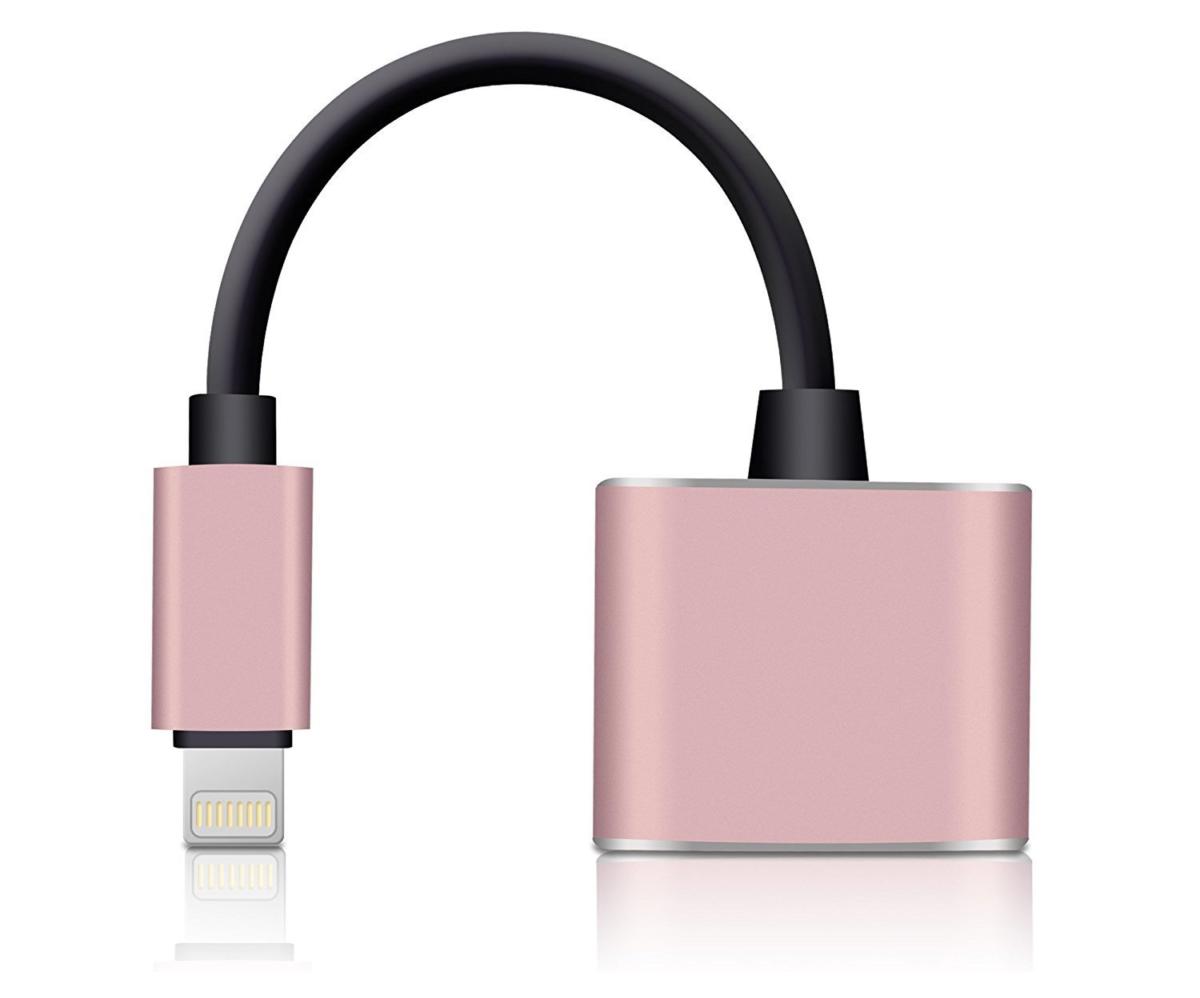 The H.Guard dual adapter (above) comes in different colors to match your iPhone 7 and it costs $19.
If you're looking for something more compact, Steanum's dual adapter (below) also worked for me, and it cost $16.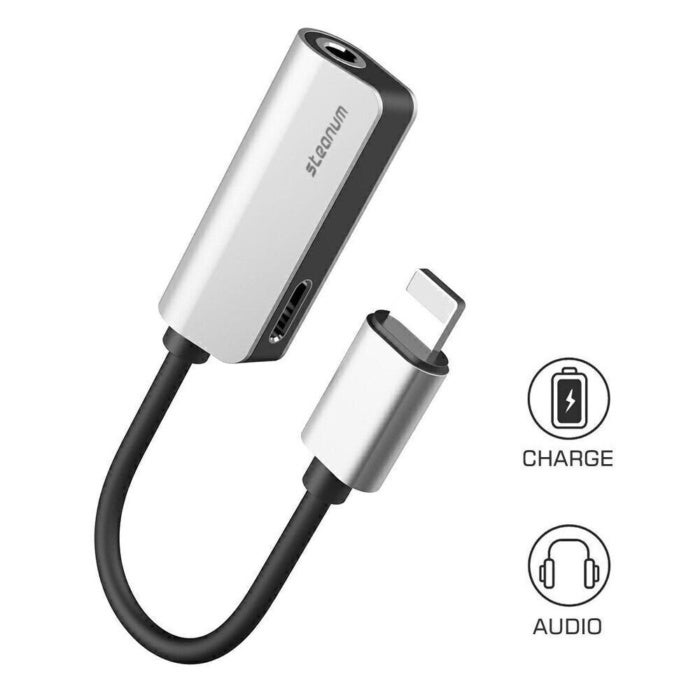 The only issue with dual adapters for 3.5mm earphones is that if you are using earphones that have built-in playback controls, they may be hit or miss. For example, using the H.Guard adapter, I could press pause using my earphones' built-in controls, but the volume controls were iffy. With the Steanum adapter, I could lower or increase the volume using built-in controls, but the pause button didn't work. So, if you're using cheaper adapters for 3.5mm earphones with some bells and whistles, just know that they may not always work properly.
Fuze battery case
The Fuze Battery Case promises to double the battery life of your iPhone 7, and it also has an integrated 3.5mm audio jack.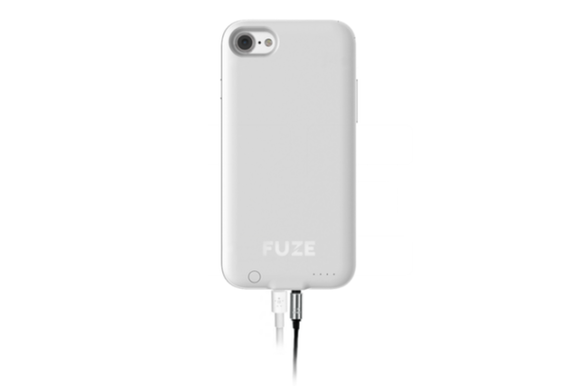 The folks at Fuze created a successful Indiegogo campaign to fund this solution, which shipped in December for $69 a pop. By comparison, Apple's Smart Battery Case for the iPhone 7 is $99—it doesn't have a headphone jack, but you can listen to wired headphones via the passthrough Lightning port while your phone charges.
iLDock
The iLDock (iPhone Lighting Dock) adapter lets you charge your iPhone 7 and listen to 3.5mm headphones simultaneously. It was selling via Kickstarter for $10, but has recently been suspended from accepting additional funding.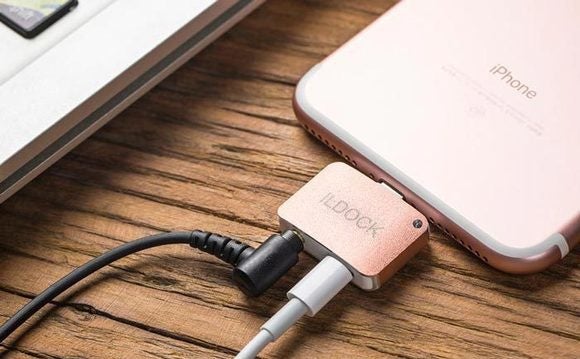 In addition, the company has made a Plus version of the iLDock for $20 with a USB port, as well as SD and TF slots. Both the iLDock and the iLDock Plus are expected to ship in November.
F/Stop Labs' Lightning to 3.5mm adapter
F/Stop Labs has created one of the sleekest adapters for charging your iPhone 7 and listening to music at the same time. The Lightning charging port is on the side, so it makes better use of the space.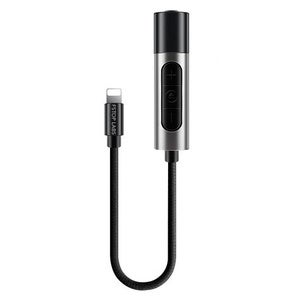 This adapter does have built-in audio controls, but you won't be able to use the microphone on your old pair of headphones, which is a very common incompatibility with all these adapters. It sells for $25.