When Apple introduced iCloud in 2011, it announced that every customer with an Apple ID would receive 5GB of iCloud storage space for free. You can add more storage: 50GB (US$1 per month); 200GB (US$3 per month); or 2TB (US$10 per month). But if you're not interested in ponying up extra cash for iCloud storage, that 5GB can quickly get tight.
That's especially true if you use your iCloud storage allotment to back up your iOS devices. You may find that you're unable to back up both an iPad and iPhone to iCloud, because you don't have enough room. Does that mean you need to either pay for more storage or revert to old-fashioned iTunes backups?
Not necessarily. Instead, it means you need to exercise a little extra manual control over how you send items—and more specifically, what you send—to iCloud for safekeeping.
The Settings app: iCloud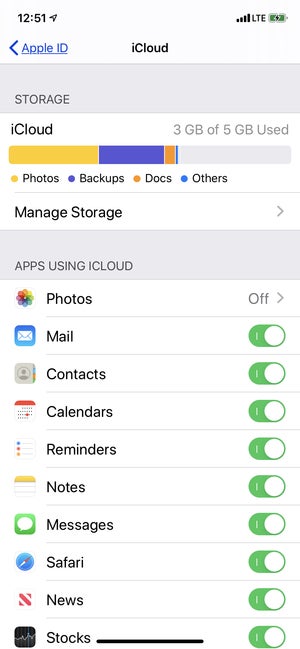 To start, open the Settings app on one of your iOS devices, tap your Apple ID name at the top, and then tap iCloud. At the top of the screen that appears, you'll see the total amount of storage space you have on iCloud (5GB, if you haven't upgraded), along with how much space is being used, and a bar displaying how your storage is being used.
Below that is a list of apps that use your iCloud storage. Take a look at that list, and turn off any apps that you don't want to use iCloud. Keep in mind that if you turn off an app, that app's data will be isolated to that device. Other devices won't have access to it. So, for example, if you use an iPhone and iPad and often use a particular app on both devices, you probably want to leave on that app's ability to use iCloud. If you frequently create documents in an iOS text editor, create songs in GarageBand, or generate any content at all, and you don't regularly back it up (or export it in some other fashion), you should use iCloud backup for those apps.
But you probably don't need to use iCloud to back up data from many other apps you use. And even if most of those apps account for only a few megabytes per backup per app, they can add up to a significant chunk of storage. For example, you might disable iBooks' iCloud backup, since you can always restore your iBooks purchases from directly within the iBookstore. You probably don't need to back up whatever data is stored by games for your kids, or games for yourself in which you don't care about in-game progress or customizations that you might have made. And for apps that sync and back up their data on the web, backup might be unnecessary, too.
Careful, though: Don't turn things off willy-nilly. For example, you might think, "Hey, I don't need to back up my data from the Cards app!" And you may well be right. But if you were to learn that, after an iCloud restore, your old photo cards were now but a memory, you'd be crushed.